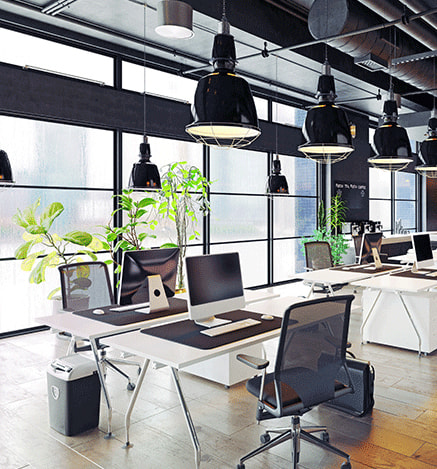 Is your new empty office space in need of furnishing and interior design? Or is your current workspace in need of some sprucing up? No matter your reason for refurbishing and redecorating, Contractors.Direct connects you with reliable, professional and highly skilled office fit out companies in Dubai. Our curated list of thoroughly vetted Qualified Contractors is available for a variety of projects in any size across all industries, including office fit out in the UAE.
Our Qualified Contractors provide:
A full range of solutions including Turnkey fit outs
Remodelling, refurbishment & redecorating services
Aesthetically pleasing interior design
Functional & efficient layouts for maximum productivity
The workspace is an important aspect of any company, and should accurately reflect your brand, business and corporate values. A good office space should be aesthetically pleasing and tastefully decorated. It should be designed in a way that optimizes efficiency and performance. And most importantly it should be a space that keeps your employees happy and healthy. All these aspects work together to create an atmosphere and space that is conducive to productivity as well as being a positive representation of your business.
No job is too big or small. Our Qualified Contractors can make your dream office a reality, providing quality work from concept to completion. Need ergonomic chairs so your employees won't suffer from painful backaches? We can recommend great office furniture suppliers in Dubai and Abu Dhabi. Does your workspace look a bit dull and outdated? We know a corporate interior design company in Dubai that can revitalise and modernise your office space. Or maybe you're moving to a new office that's empty? Contractors.Direct's experts will suggest Qualified Contractors that can satisfy all your office fit out needs.
We know that finding a contractor who can bring your vision to life within budget and on time can be a difficult task. You're far too busy running a business to waste precious time and energy searching for the right office fit out company. That's why we do it for you. Contractors.Direct sources only qualified contractors who are put through our stringent Due Diligence process to ensure that they meet our high standard of work quality, dependability and professionalism. All you have to do is enter a few details about your project, fill out one simple form and we'll connect you with up to 5 Qualified Contractors that suit your criteria.
Contractors.Direct is more than just a middleman between you and qualified contractors. We hold our contractors to a high standard by monitoring and reviewing them regularly. This ensures that we only ever recommend quality companies. In addition, we offer a Full Scope Project Management service that crafts a project execution plan according to your specific requirements and time and cost expectations. The project management team will also manage the process from concept to completion to ensure that you're happy every step of the way, from start to finish.
Testimonial
WHAT OUR CUSTOMERS
SAY





Daily Updates
Latest Articles

Updated Daily
Learn More